Divorce Coach??
WHAT IS A DIVORCE COACH?
What is a Divorce Coach?? And do you need one? How do I find a Divorce Coach near me? Many people are discovering that a Divorce Coach is an essential member of their team, if not the MVP of the process. A Divorce Coach assists parties to divorce by offering support, guidance, and organization throughout.  They can be attorneys or therapists but it is not required.
WHY? 
I have recently made the decision to add divorce coaching to my services in the hopes that I may help even more people. Often times I'll have someone come to me that would like to try mediation but unfortunately, their partner does not and would rather take the contentious route. I have to begrudgingly turn away that person because in order to meditate we need both parties to participate.  By offering divorce coaching I can still help that one party have a hopefully successful divorce process. By successful I mean organized, low cost, less acrimonious, better for the kids and less time.
Low Cost
Less Conflict
Better for the Children
Quicker 
NEUTRAL THIRD PARTY
A Divorce Coach is different than your Mother or Best Friend in that he/she will give you neutral advice and not just what you want to hear. Also, your Mother and Best Friend may be too emotionally invested to give you clear guidance. This isn't a bad thing they probably love you very much and want what's best but it's just not their role. The Coach will help you make the best decisions for your future since the Coach is not emotionally invested.
LOWER ATTORNEY FEES 
As an Attorney as well as a mediator I'm well versed in the legal ins and outs of divorce. I also know that attorneys can be ridiculously expensive. Part of coaching entails helping you make decisions and working out responses to emotional decisions in advance so you don't have to go over it with your attorney who will charge you an arm and a leg. I can also answer basic legal questions saving you money by not inquiring with your attorney. Of course, there may be some issues that you will still need to speak to your attorney with but I can help you break down what those are.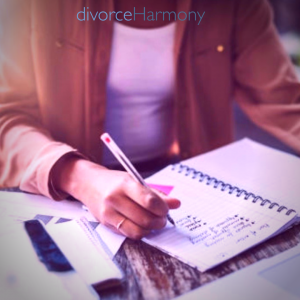 ORGANIZATION 
You are splitting up your entire life and it can be a whirlwind you may not be thinking clearly. Allowing a Divorce Coach to assist you in organizing your goals, legal issues, emotions, family, financial concerns can give you back the power in your life. Setting goals and working through the tough stuff in the midst of upheaval can help in the present and in planning the future. Let's work on a financial plan/career, relationships with your children, how to communicate with your ex-spouse, and more. It's not as difficult when everything is organized, put into a plan and as your Divorce Coach I demand accountability in a supportive way.
LIST TO ORGANIZE YOUR ROADMAP WITH THE DIVORCE COACH 
financial planning
career planning
relationship with your children
communication with your ex
RESOURCES 
As a Divorce professional, I have a long list of superior professionals I have been working and collaborating with. I'm happy to refer an Attorney, a financial expert or a mental health expert. None of these may be necessary or all of these may be. It really depends on your particular situation but whatever the case may be I can assist.
COST AND TIME
The cost for a Divorce Coach is very reasonable. Unlike an Attorney, not every email and phone conversation is charged. I offer reasonable custom packages depending what your goals are and I am always on call. Additionally, like my mediation practice, everything is done virtually. We have sessions on your time from wherever you choose. Please inquire with divorceharmony.com to learn more.
ULTIMATE CONVENIENCE
In addition to Coaching I can draft and file all of your paperwork if that is something that you are looking for. You would not even have to go to Court! Everything can be filed online. About 30 days after I file your documents you would receive the final judgment in the mail. NO court appearance ever! 
COMMUNICATION
It's all in the message really. I can help you develop effective communication skills with your ex to facilitate a more pleasant divorce process including figuring out a parenting plan for your Children so their transition is as seamless as possible. And so you can get on with your life and discover your next chapter with a clear head and heart.
Very happy to provide families and individuals with stress-free, fast, cost effective divorces. Everyone should be entitled to a pleasant divorce experience where they are in the drivers seat. Please contact divorceharmony.com for more information and a free consultation.