Halloween Doesn't Have to Be Scary This Year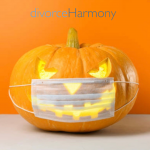 Effective Co-Parenting This Halloween
Halloween is usually such a fun time of the year. It brings up visions of candy, costumes, parties, fun, candy, fall festivals, candy, season change, cider, pumpkins, and did I mention candy? I make it a point to include the holiday when drafting parenting plans for my clients.
It's not such a major holiday but it does hold a special place for kids and parents alike. It's the time to make memories and spend quality time together. Both parents can and should participate in their kids' annual Halloween traditions if they wish to do so.
Parenting Plans During COVID-19 | Divorce Harmony
There are several things to consider when thinking about how to "carve-out" (pun intended) each parent's time with the child. The first thing to think about is the age of the child. If they are younger it will be a more hands-on activity with the parents. Perhaps the parents can agree to one neighborhood per year and that the other parent is welcome to join? Parenting plans can be fluid and edited as the needs of the kids change with their age.
As the kids grow up they will probably want to fly solo and not hang out with their embarrassing parents on the holiday. They will want to go to Halloween parties and trick or treat with their friends. Even if parents are not involved in the minutiae, it's still helpful for them to communicate with each other so they both know the kids' plans. Keeping each other in the loop is vital for a healthy co-parenting relationship.
Additionally, communication between parents should be facilitated to discuss such things as what they are allowed to consume. Make sure they understand what is safe and not safe to eat. Sometimes Halloween is the only time kids can eat candy so it can be overwhelming and exciting for them so rules should be enforced. In today's hypersensitive environment, make sure your child's costumes are age-appropriate and not offensive to any particular group. Talk with your ex about it so you both are on the same page.
Lastly, we are obviously experiencing a Halloween season like no other. Is it even safe to trick or treat this year? According to the CDC, it is not.
They conclude this is a high-risk activity that should be avoided. Fortunately, the two parents have the final say and should openly discuss this and how they can take precautions if they choose to allow their children to go ahead anyway. And if they choose to not allow trick or treating this year that is perfectly fine too. This and other Covid plans are becoming more and more common when we are drafting up parenting plans now. It is so important to have an understanding with your co-parent on what you will do in these new, unforeseen times.
Fortunately, the CDC does list several activities that they deem low-risk for this year. One being hayrides or apple picking with your immediate family. Also, a drive-by where you leave individually packaged treats at the end of the driveway for friends and family. Other ideas are a virtual costume contest, carving pumpkins with friends outside, and a Halloween scavenger hunt. It is entirely possible to make this year's Halloween celebration a barrel of fun for the kids and parents.  With an efficient parenting plan, proper safety precautions, and a winning attitude this year's Halloween doesn't have to be scary this year!